The establishment of INTELSAT in 1964 represented a pivotal moment in the history of global telecommunications. With the creation of INTELSAT, Thailand could communicate with each other via satellite, marking a significant paradigm shift in global communication capabilities. Thailand's admission to INTELSAT and became the 49th member of INTELSAT in May 1966 represented a major milestone for Thailand, granting access to a diverse array of global telecommunication services such as voice, data, and video communication. Membership in INTELSAT also expanded Thailand's international communication capabilities, facilitating economic growth and development.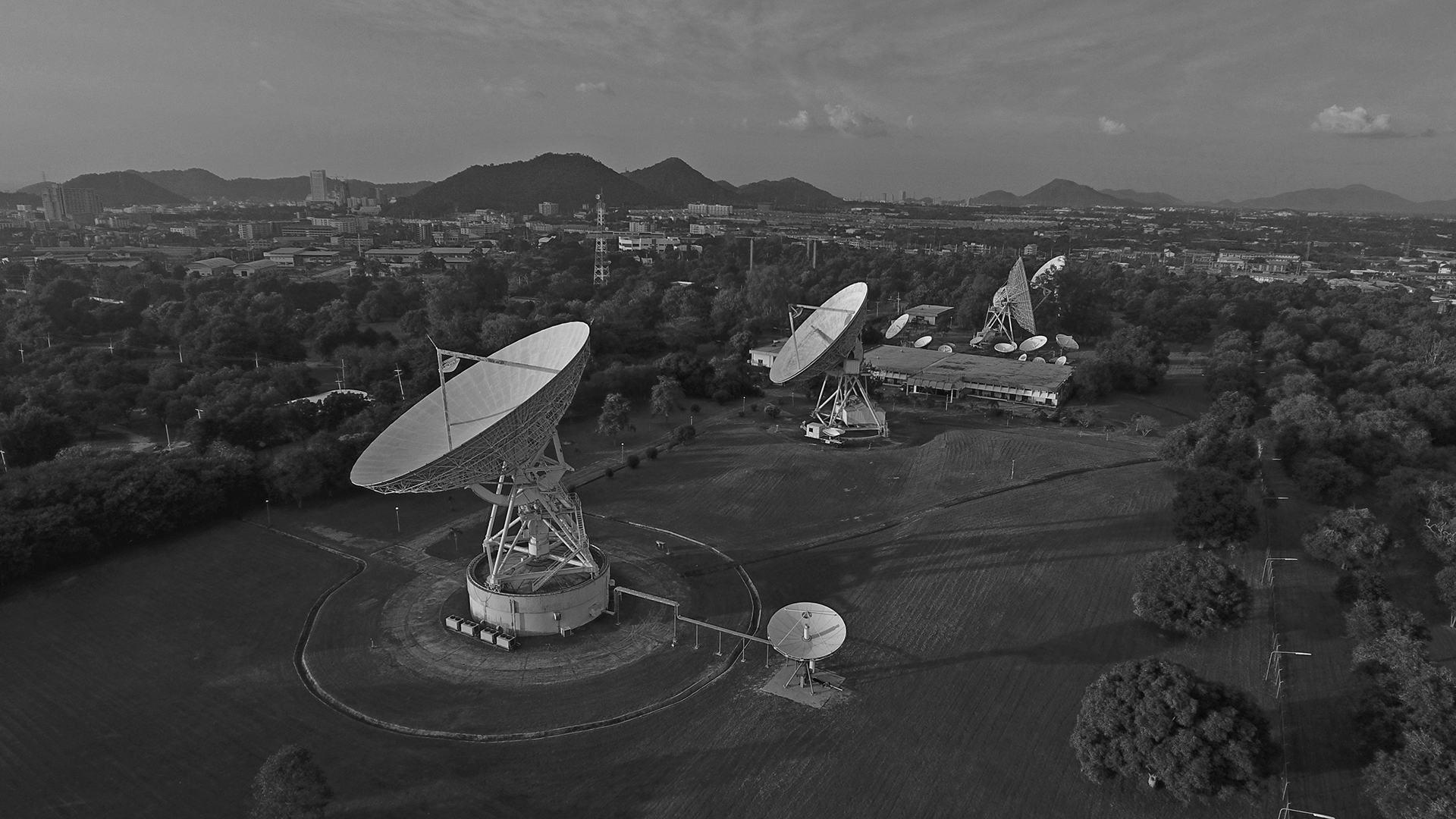 On April 12, 1967, the Post and Telegraph Department signed a contract with Public Telephone and Electronic International Incorporated to build Thailand's first satellite telecommunication station. This station, which is still in use today, is located in Sriracha District, Chonburi Province, at 13/1 Moo 9, Thung Sukla Subdistrict. The Sriracha Satellite Station covers an area of approximately 1,000 rai, is roughly 125 kilometers from Bangkok, and has Latitude 13.62 degrees North and Longitude 100.56 degrees East.
In 1983, Thailand introduced satellite communication systems for domestic use, providing television broadcasting services to Channel 3 TV stations and Channel 9 TV stations. This led to a more expansive and efficient communication network in Thailand.
In 1995, the Communications Authority of Thailand (CAT) facilitated live television broadcasts of the 18th SEA Games in Chiang Mai using a live satellite truck (SNG). This was the first time a signal was transmitted outside a satellite station.
In 1998, the Nonthaburi satellite station was built to support data services, high-speed internet, and satellite broadcasts. It is located at 53 Moo 8, Tiwanon Road, Bang Kraso Sub-district, Mueang District, Nonthaburi Province, on an area of approximately 10 Rai. We began broadcasting digital television signals for the first time at the 13th Asian Games in Bangkok, allowing for television signals to be transmitted to over 20 countries in Asia.
In 2000, the Sirindhorn Satellite Station was constructed. It is located at No. 999 Moo 13, Kan Rai Subdistrict, Sirindhorn District, Ubon Ratchathani Province, on an area of approximately 261 Rai. The main objective of the station was to enhance connectivity with Latin America and the Pacific Islands while also reinforcing Thailand's capacity and preparedness to become a telecommunications hub in Southeast Asia.
NT Satellite Solutions
As of January 7, 2021, CAT Telecom Public Company Limited and TOT Public Company Limited have undergone a merger to form National Telecommunications Public Company Limited or NT. The entity, known as NT Satellite Solutions, is a prominent provider of satellite communication services in Southeast Asia, equipped with highly skilled personnel and three satellite gateways capable of supporting both domestic and international satellite communication services with exceptional efficiency.